Pancake and Waffle Mix
~32 servings per bag
Have you ever looked to the heavens and plaintively asked, 'why can't foods that taste good, also be good for me? Well, your prayers have finally been answered. Now you can enjoy an amazing tasting Pancake / Waffle mix that will literally blow your taste buds away! What's more, it can be used as a base mixture to create all kinds of other low-carb / keto-friendly treats for you and your family to enjoy, GUILT FREE! Imagine a fluffy, flavorful and healthy breakfast, that tastes like a treat, but has loads of fiber and protein to help you manage your weight and start your day off right! Beneve's unique pancake and waffle mix is full of nutrition but without compromising the taste of a classic breakfast food! ZERO SUGAR

​Enjoy one (1) bag of our Premium Low Carb / Keto Friendly mix that makes amazing tasting pancakes, waffle, crepes and more. There's literally no limit to the list of great tasting healthy treats you can make for your family!


Enjoy our delicious Waffle and Pancake mix on its own, or use it to make recipes to last a lifetime!! We love that you can get creative with the mix and create outstanding meals for the whole family to Enjoy!! It's low carb and Keto Friendly too!!
Mix 1 cup of dry mix (136.4 g) with 1 whole egg, 1 teaspoon of vegetable oil, 1/2 cup of water or desired amount to create a thin batter. Allow the batter to sit and rest for 3 minutes to thicken. Cook according to your griddle or waffle maker instructions. (Yield: Approximately 8 pancakes or waffles.)
Modified Wheat Starch, Wheat Protein, Buttermilk, Non-Fat Dry Milk, Whey Protein Concentrate, Baking Powder, Baking Soda (Sodium Bicarbonate), Natural Flavor, Sodium Chloride, and Stevia Leaf Extract.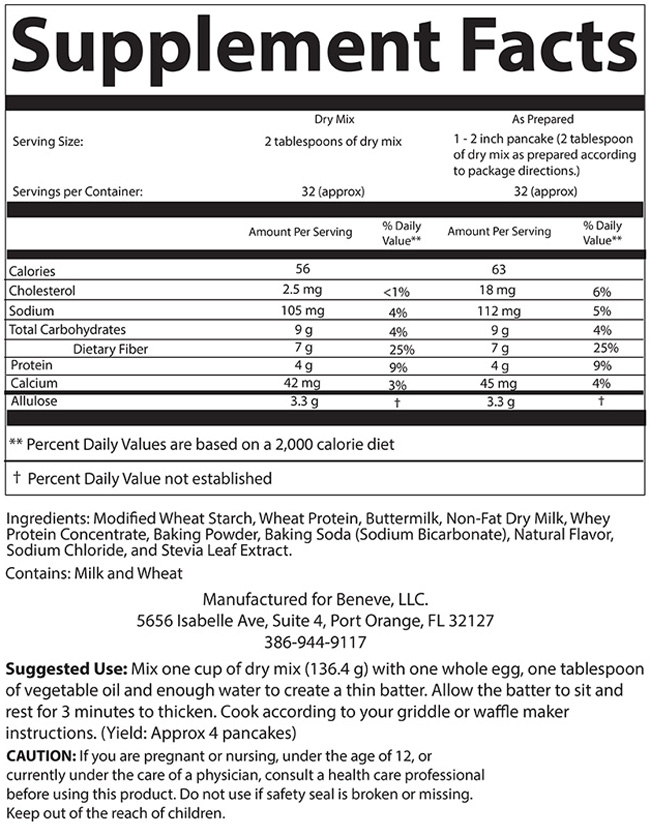 * RESULTS MAY VARY
* THESE STATEMENTS HAVE NOT BEEN EVALUATED BY THE FOOD AND DRUG ADMINISTRATION. THIS PRODUCT IS NOT INTENDED TO DIAGNOSE, TREAT, CURE OR PREVENT ANY DISEASE.