Power Of 3
Contains 30 servings
​​Our "Best-in-Class", bioavailable, capsulated product was designed to supercharge the body's defense system.

Each serving contains a trifecta of DIM, Glutathione and Xanthohumol active ingredients. These super-charged antioxidants were combined to support AMP-K activity. AMP-K activity is critical to your overall well being, as it's your cell's Master Energy Regulator.

Power of 3 provides your body with the antioxidant fuel it needs to protect itself, support cognitive health, fight oxidative stress, better fat metabolism, support healthy cholesterol levels and gain a more youthful appearance!

* Fermented Glutathione with clinically proven absorption
* Glutathione is considered the master antioxidant that exists inside every one of the trillions of cells that make up the human body.
* Helps support radiance and a youthful appearance
* Supports the body's own natural detoxification process
* Antioxidant support
* Energy, mood, cognitive and digestive support
* Helps support the body's natural immunity
* Regulate, repair, and recycle other important antioxidants in the body
* Supports a healthy immune system
* Supports healthy liver function
* Jump start your weight loss program- support

Beneve makes absolutely no medical claims with regards to our products, or individual ingredients; however, we are providing NIH links for your convenience, should you wish to research the ingredients yourself:
https://www.ncbi.nlm.nih.gov/pmc/articles/PMC3048776/
https://www.ncbi.nlm.nih.gov/pmc/articles/PMC6272297/
https://pubmed.ncbi.nlm.nih.gov/?term=glutathione
Our powerhouse, antioxidant blend (DIM, Xanthohumol and Glutathione), is truly a Best-in-Class supplement that you'll never want to miss taking. Take a moment to look over the Pub-Med and NIH studies on the top 3 ingredients contained in this product and you'll quickly realize why we've combined all 3 into this exceptional formulation.
Suggested Use: For adults, as a dietary supplement take one capsule
Diindolylmethane (DIM), Xanthohumol (Hops Flower Extract), OpitacTM (L-Glutathione), PolynolTM (Sugarcane Whole Plant Extract), and Bioperine® (Black Pepper Fruit Extract)
Other Ingredients: Hypromellose (capsule shell), Dicalcium Phosphate, Tricalcium Phosphate, Magnesium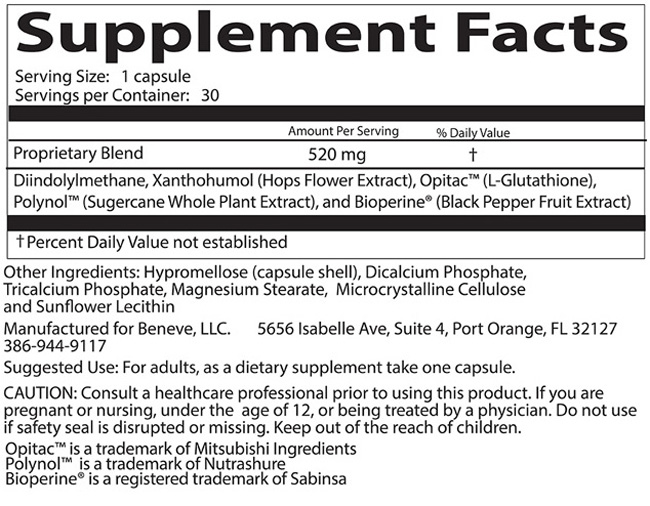 * RESULTS MAY VARY
* THESE STATEMENTS HAVE NOT BEEN EVALUATED BY THE FOOD AND DRUG ADMINISTRATION. THIS PRODUCT IS NOT INTENDED TO DIAGNOSE, TREAT, CURE OR PREVENT ANY DISEASE.